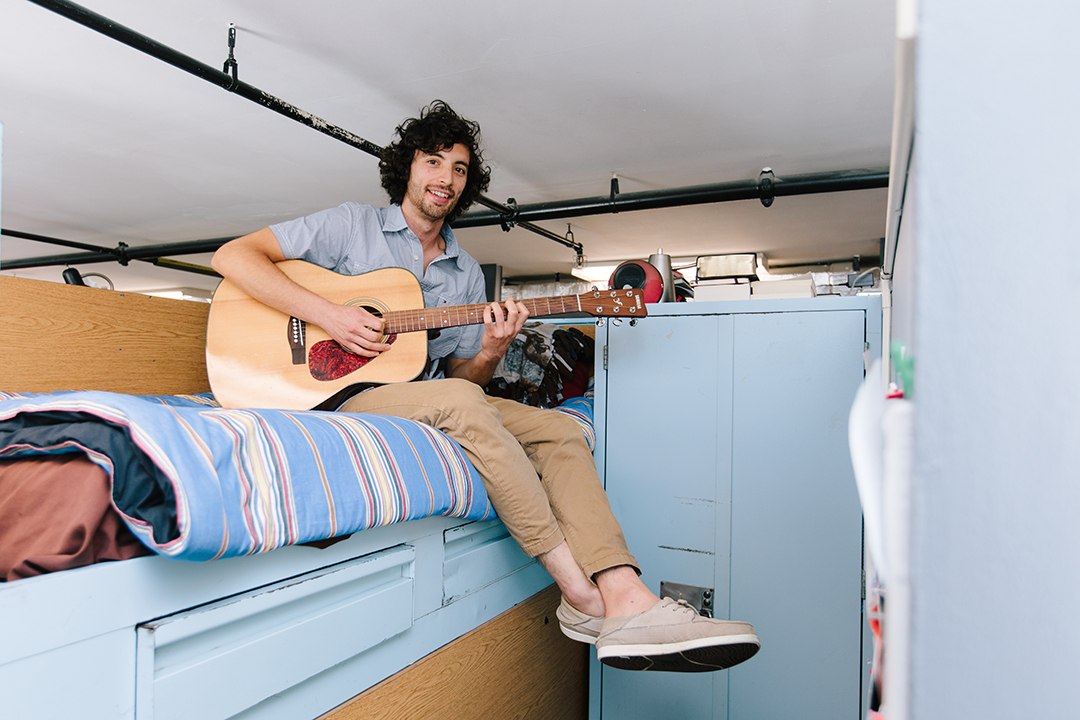 17 May

Thank you for loving your neighbor, Robby
Thank you for loving your neighbor, Robby,
and giving him hope for the future!
"I was trying to hold it together and couldn't."
Robby learned from a young age how to fend for himself. In a home with domestic violence and absent parents, he grew up in isolation, with no guidance or discipline. As a teen he was removed from his home; but when he was adopted, he was presented with the opportunity to try drugs, and it was only a matter of months before he was addicted.
At age 16 he ran away from home, and after that point, he was on his own. "I turned into a person that kept running from everything – feelings, relationships, even myself. It wasn't easy," he said. "I was always searching for something, but it all amounted to nothing."
After years of wandering and struggling with his addiction, Robby came to stay in the overnight shelter at our Asbury Park location, the Jersey Shore Rescue Mission. One of our staff members told him about our addiction recovery Life Change Program, and he decided to join. But after a few months in the program, he left to address some medical issues, and life caught up with him again.
"I was trying to hold it together and I couldn't. I had slipped into a deep depression and loss of direction," he said.
He checked himself into the hospital, and it was there that he remembered the Mission. He realized he needed to change what he was doing and give his life over to God: "My initial surrender was at the hospital, and then it was just little acts of obedience from there," he explained. "I remember saying, 'I'm willing to do anything.'"
When Robby rejoined our recovery program at the Market Street Mission, he began to grow tremendously. Through work therapy and classes, chapel services and Bible studies, he has deepened his relationship with God and is learning who he was created to be.
"I've gotten more things [out of this program] than I can even count," he said. "I've gotten a new life, completely. I've gotten Christ in my life, new skillsets, and a beautiful family around me that's there every step of the way."
Through the encouragement of the new community he has found – and thanks to your prayers and support! – Robby is filled with undeniable joy and new hope for the future. He graduated from our program, made the choice to get baptized, and is now serving in a leadership position as a program intern at the Jersey Shore Rescue Mission!
As an intern, Robby is excited to help others work through the struggles he once faced himself. He also plans to go back to school to become a social worker. And in his free time, he is enjoying hobbies like skateboarding, surfing, music, and art more than ever before. He used to think that if he chose to follow Christ, he would have to give up everything he enjoyed; but now he has found the opposite to be true – he is experiencing things more fully, with the greater purpose of glorifying God through it all!
He finds fulfillment in being creative, especially when he has the opportunity to bless other people. "We were made in the likeness and image of God, and God created the world – so if He gives me the inspiration to create, I'm going to keep doing it," he said. "Now I can use it for His glory, and that's what is really important. I'm grateful that He's given me these gifts to be able to help where I can."
Today, he has no more shame about his past – only adoration for Christ and a commitment to continue growing. "The path that God has set before me is going to be incredible," he said with a smile.
Thank you for your generosity that has opened the door for Robby to experience redemption and new life.
"I don't recognize myself, but I know who I am now," he explained. "I'm an honest person willing to move forward, and I just want to have a good life. I am a new creation."
To read the rest of this issue of Market Street Mission Messenger, click here.
Help other people like Robby…
Robby's story of hope and healing is inspiring. Our long-term recovery programs exist to help other men and women find healing. Will you provide this help to others?
Call (973) 538-0431 If You Or Someone You Know Wants Help.