07 Sep

National Recovery Month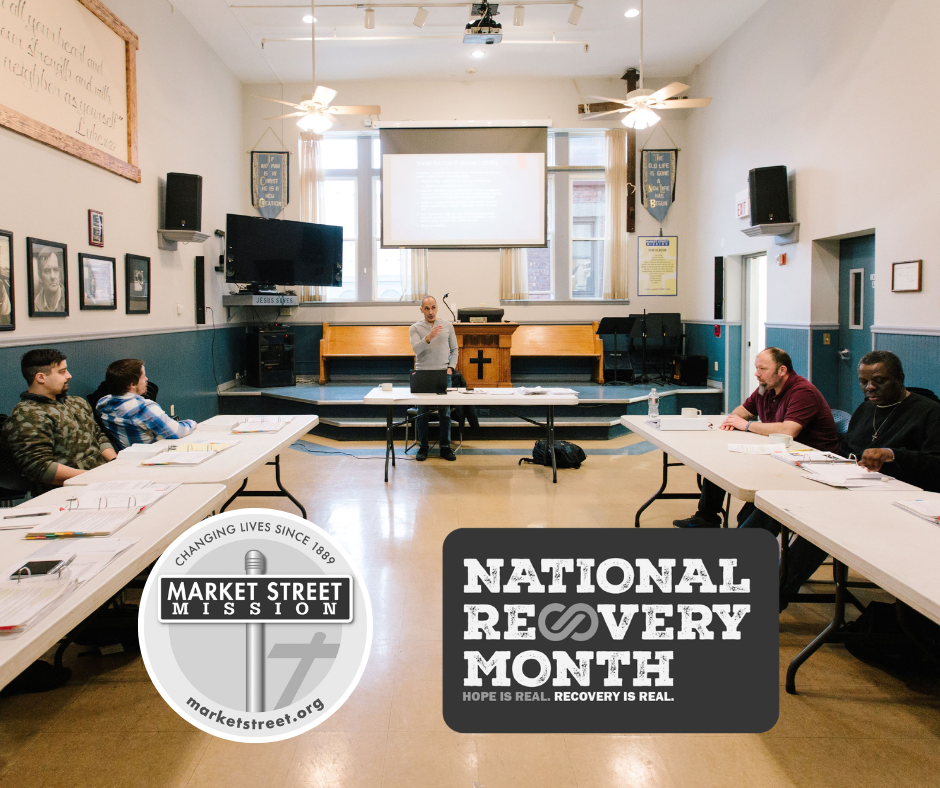 National Recovery Month
September is National Recovery Month, which is close to the heart of the work we do at the Mission!
Throughout the month, we will be sharing articles from our program staff detailing various aspects of our Life Change Recovery Program.
Check out the articles below to learn more.
Life Change Program Structure
Market Street Mission's Life Change Program: A Structure of Motivation and Accountability
By G. David Scott, LPC, LCADC, CCS – CEO/Executive Director of Market Street Mission and Jersey Shore Rescue Mission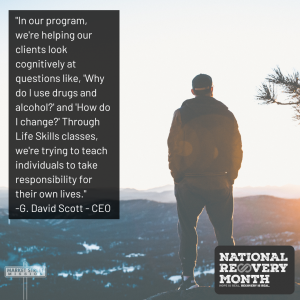 The Market Street Mission's Life Change Program is a 12-step, abstinence-based, residential Christian recovery program for men struggling with substance abuse. It is structured in multiple phases, and the core of the program is a contract individualized to each client. We ask, 'What is the problem? What have you done about it already? And what can we do to help?'
You begin our program with a month-long period of assessment. While you're looking at us, we also look at you to see if our program is a good fit. As part of this stage of the program, we have you sleep on a mattress on the chapel floor. If you're ready to sleep there next to 20-some other men for however long it takes, you're proving that you're ready – to yourself.
After this phase of Pre-Program, you move up to our second-floor level for Phase One of our program. The activity that takes up most of the time in this phase is work therapy. Along with work, you also spend time in our Learning Center, participate in counseling sessions, and attend Bible studies and AA/NA recovery meetings. During this time, we're working with you, asking, 'Who are you?' and trying to help encourage your gifts and abilities.
Then you move on to Phase Two, our classroom phase. In this time, we're helping you look cognitively at questions like, 'Why do I use drugs and alcohol? What are the triggers? And how do I change?' Through all these life-skills classes, we're trying to teach individuals to take responsibility for their own lives, while also practicing accountability with others in the program.
The exciting event after Phase Two is graduation, where we celebrate with our graduates that they've made it. For many men, when they enter our program, life has crashed, and even mom can't have anything to do with them anymore. But at graduation, families are reunited, seeing their sons and husbands sober and moving forward.
From there on, we attempt to stay connected with our alumni. We have a transitional time when they can look for work and housing. Beyond that, we provide the option to live in one of our sober houses, which helps continue the relationships of accountability amongst the men who live there. We also offer a post-graduation internship, where a few men are encouraged to stay at the Mission in a leadership position and help run the program. This not only contributes to the long-term recovery of our interns themselves, but it also helps our current program clients to have mentors who have gone through the same struggles they are facing.
Our program structure is based on a behavioristic model. The setup is visual, in that where you sleep shows your status. As you progress through the program, you move up a floor with each subsequent phase. It is based on a reward too, and what we want is for the program itself – being able to be here and work toward a better future – to be the reward. In terms of determining who should be in the program, we are interested in seeing success by having people who are motivated to participate.
This is the only program dealing with addiction that I know of that doesn't require random drug testing. The reason for that is it would make me responsible for keeping the place clean, but I think it's much better to place that responsibility on the clients themselves. When I first started a job at a different Mission, the clients often asked me, 'Are you in recovery?' My response was, 'Why do they ask that?' They ask because they want to know if I have experienced what they've experienced. No, I haven't struggled with drugs or alcohol, so the clients in the program often pick up on the symptoms way quicker than me. And that's ok, because of the way our program is structured.
This program works because it puts the responsibility on the client. A key part is that as a man is working on himself, he's sharing what's going on with others. Not only is he having people say to him, 'I'm worried about you in terms of that trigger,' but he also has the responsibility to do that for other men in the program. This keeps the recovery conversations going beyond just the counseling sessions. We tend to think that counseling is magic, but it's not. It's the time where we evaluate and set goals. The magic happens between the sessions. And part of what makes this successful is having people watching all the time – clients practicing accountability amongst themselves.
The whole program is meant to be therapeutic, with a reason behind everything that's going on. And the clients' relationships with each other are a key element. We have a lot of professional staff, which has really grown since I first started here, but the thing that's been consistent from the beginning is the participation of the clients. And throughout the years, the Lord has blessed us with great success in seeing men's lives completely transformed.
Counseling in Recovery
Exploring Transformation through Christian Counseling: A Path to Healing at Market Street Mission
By Patrick Tansey, LPC, LCADC, ACS – Clinical Director of Market Street Mission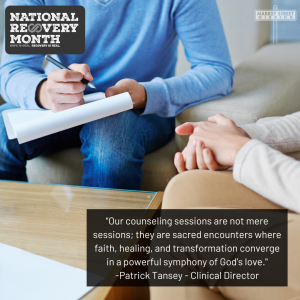 In the realm of recovery from substance use disorders, the essence of comprehensive counseling is deeply important and strongly intertwined with faith and transformation. As the Clinical Director of Market Street Mission (MSM), it is both my privilege and passion to shed light on the counseling services we offer, grounded in our Christian values, as a part of our residential Life Change Program catered to adult men who are grappling with addiction.
A Holistic Approach to Healing: Individual, Group, and Family Counseling
Recovery is a personal journey, and individual counseling plays a pivotal role in addressing the unique needs and struggles of each participant. MSM employs Licensed Professional Counselors, Licensed Clinical Alcohol and Drug Counselors, Licensed Associate Counselors and Licensed Social Workers to help conduct our counseling services. Our licensed and experienced counselors work closely with our residents to create a safe and supportive space, where they can explore their thoughts, emotions, and past experiences. Through one-on-one sessions, we empower participants to confront the underlying causes of their addiction and develop healthy lifestyle changes to navigate life's challenges.
However, we recognize that healing is not a solitary endeavor. Clients participate in both psychoeducational and process groups where they have a chance to connect with peers who share similar experiences. In these sessions, individuals find camaraderie, empathy, and encouragement as they share their stories and learn from others. The sense of community that emerges in group counseling is invaluable, reminding our residents that they are not alone in their journey.
As we know, substance use disorder affects the whole family as well. Our commitment to holistic healing extends to family counseling on an as-needed basis, where we provide a platform for open communication and reconciliation. Healing within the family unit is often an essential step towards lasting recovery, and our counselors facilitate these conversations with compassion and expertise.
Case Management Support: Navigating the Road to Recovery
Recovery involves rebuilding one's life from the ground up, and practical support is crucial in this process. To this end, we are proud to have a Licensed Social Worker on our team who specializes in case management and other social work skills. Whether helping with medical and legal issues, finding employment, securing housing, or managing social security benefits, our social worker provides invaluable assistance to our participants as they transition back into society. This comprehensive approach addresses the multifaceted challenges that can arise during recovery.
Internship Opportunities: Empowering the Future Generation of Counselors
Our mission is not confined to the present; it extends to the future. We forge partnerships with local universities, offering internships to aspiring master's-level students pursuing degrees in mental health counseling, addiction counseling, and social work, all underpinned by their faith. These internships provide hands-on experience, supervision, and training, cultivating a new generation of Christian counselors who will continue the cycle of faith-based healing. We hold weekly training sessions along with individual and group supervision sessions with our interns to ensure they are providing the best counseling services to our Life Change Program clients.
In closing, at Market Street Mission, our counseling services are woven with threads of faith and compassion. Through individual, group, and family counseling, we facilitate not just recovery, but spiritual transformation. Our case management support reflects our unwavering belief that God's providence extends to practical matters, guiding our participants as they rebuild their lives. Moreover, our dedication to nurturing future counselors underscores our commitment to the ongoing cycle of faith-driven healing.
As we continue our journey of guiding men towards recovery, we are steadfast in the understanding that God's grace is a beacon of hope and redemption. At Market Street Mission, our counseling sessions are not mere sessions; they are sacred encounters where faith, healing, and transformation converge in a powerful symphony of God's love.
Education in Recovery
Restorative and Empowering Education: A Look at Market Street Mission's Learning Center
By Terrance Cummins, EdD – Learning Center Manager at Market Street Mission
The Market Street Mission in Morristown, New Jersey has been aiding men in their fight with addiction for well over a century. Today, the nation's struggle with addiction is a frequent and major talking point. However, during the formative years of Market Street Mission, there was little to no public discourse on the subject. Market Street and other Rescue Missions began the process of addressing the issue of addiction in the lives of the men who came through their doors, and they were very forward-looking in their endeavors. In contemporary times, Market Street still maintains this innovative approach to combating addiction and its consequences. This is demonstrated not only in its robust counseling services but in Market Street's Learning Center as well. Clients at Market Street Mission spend time in the Learning Center so that their educational and vocational needs are addressed.
Educational Impact of the Learning Center:
All clients at the Market Street Mission attend the Learning Center on Tuesdays and Thursdays while in the first phase of the program. While in the Learning Center, clients engage in educational interventions in order to stimulate their minds and establish higher level thinking. While in a life of addiction, little time is given to "exercising" one's mind. There are many studies that suggest that when someone who is in recovery takes the time to work their mental faculties, this contributes to a more sustained sobriety. This is done in the Learning Center through math problems and reading/writing prompts. Further, men who are desiring to complete their GED can begin being tutored to reach that goal.
Vocational Impact in the Learning Center:
In addition to this, while in the Learning Center, clients are given access to a professional development site called Udemy. They complete required courses on this site that relate to subjects like Computer Skills, Anger Management, Personal Finance, and Resume Building. Udemy also gives them access to a host of user generated courses that can teach them soft skills and skills pertinent to various careers and trades. This is for the purpose of increasing their marketability to employers. As a person in recovery gains employment and maintains a healthy work life, their likelihood of relapse decreases.
Impact on Personal Confidence:
The Learning Center's impact is seen not just in a client's ability to land a job post-graduation, but also in how their confidence is bolstered through completing different learning modules and classes. Clients experience a tangible sense of achievement as they progress through the Learning Center, and this contributes to their confidence growing in their sobriety. As they see themselves completing lessons, they begin to internalize that success, which encourages them to continue the pursuit of making a sober life their new reality.