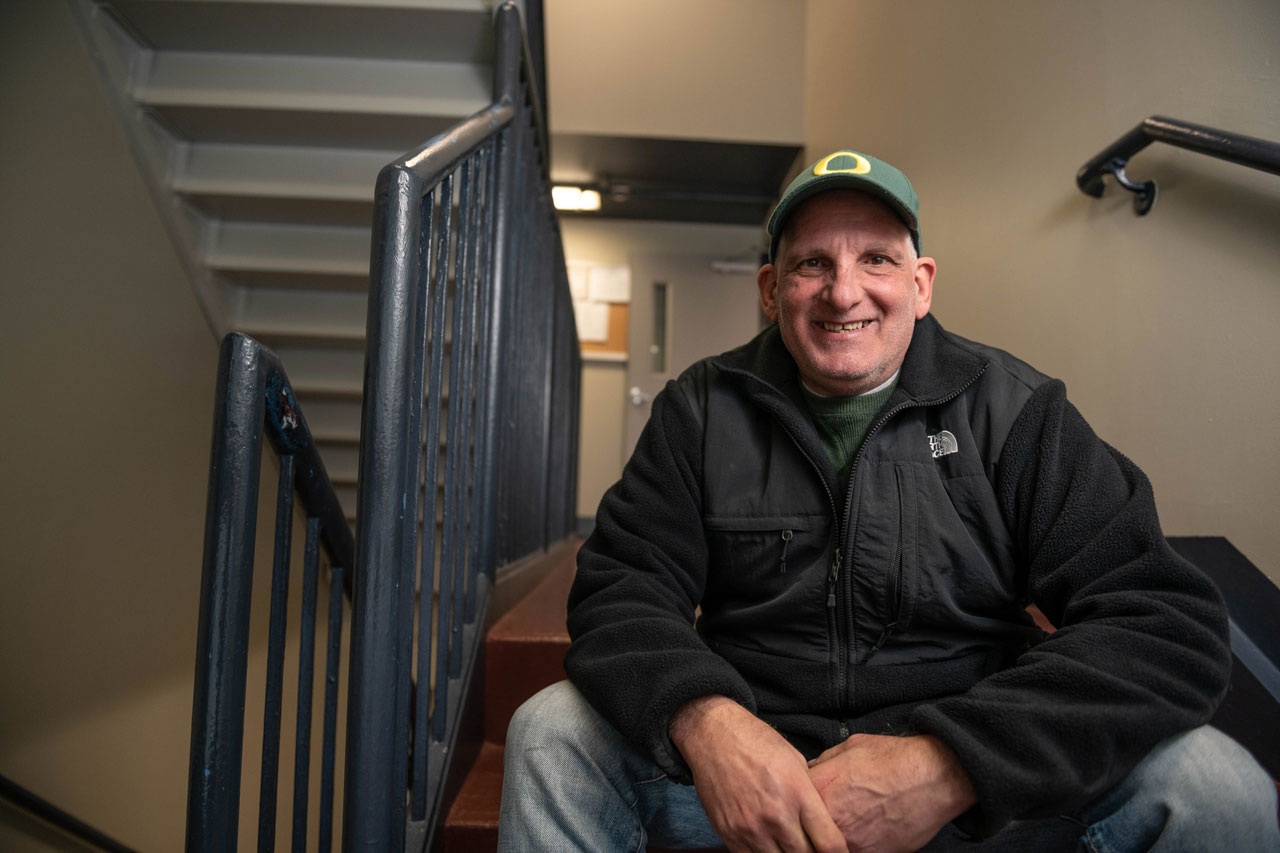 28 Feb

Glenn is celebrating new life this Easter. Thank you for touching his life with hope.
Finding Addiction Recovery in the Lord
"I only had 75 cents left in my pocket…"
Glenn – or "Coach," as he's known around the Mission – grew up loving the game of baseball. He played on teams until he was 24 and then transitioned to coaching. The nickname stuck with him, even when his days of baseball were over.
As a young adult, Glenn was successful. He got married and had two sons, and was a good father to his kids. But his own father was always too tough on him, expecting more of Glenn than he could give. "My father put a lot of pressure on me," he said. "I could never do enough for him."
So when his father passed away when Glenn was 33, he felt like the pressure was gone. "I ran wild," he said, and soon got caught in a 25-year struggle with addiction.
He tried a recovery an addiction recovery program after a few years, but his heart wasn't in it – he was continuing his old patterns of behavior, and didn't take the tools he learned with him. "I knew how to be a Christian, but I wasn't walking that way," he said.
He continued to struggle with his addiction, and things eventually spiraled out of Glenn's control. One of his good friends overdosed and died, which led Glenn to a deep depression. He lost his home, had no steady job, and spent what little money he had on drugs. For two months he lived in a Bergen County shelter, feeling like his life was going nowhere.
It was then he knew he had hit the bottom, with nowhere to turn for help: "I was still in my addiction, still using at the shelter, and I got to a point where I only had 75 cents left in my pocket. So I went to [New Bridge] detox, and I put myself in the Emergency Room, just looking for help."
After a few days in detox, with no insurance and few options of where to go next, Glenn was directed to our addiction recovery program at the Market Street Mission.
He pledged to give the program 30 days to try it out. But as soon as those 30 days were finished, the pandemic hit, and he had to choose: leave and fend for himself, or stay in the program.
"There was nothing out there for me," he said, and decided to stay at the Mission. "What God gave me in this place in the beginning was patience" – the patience to stay, to work on his recovery, and to see what God had in store for him. He had encountered a new kind of love and peace in his time here, and he wanted to develop those things in his life.
When Glenn committed to continue the program, he began to see God at work in his life. He spent time working at the thrift store, attending AA recovery meetings, and learning about God through Bible studies. Because of the environment of accountability and brotherhood, along with the mentorship of our staff, he is learning how to walk with the Lord.
"This place saved my life," he said. "It taught me to be humble and love others. That's what this place is all about – helping others."
Now, Glenn has completed our Life Change Program and serves with the Mission in a leadership position as an intern. He wants to help other men going through the addiction recovery program the way people helped him – and he feels like his coaching skills from life before have prepared him to walk alongside these men as they work toward their own recovery.
Because of your love and the care he received, Glenn is celebrating new life this Easter. Though he is unsure what the future holds, he knows he wants to stay connected with the Mission. He is also restoring relationships with his family. His son can see the difference in him now, and though their conversations used to center only on sports, now they discuss Scripture together every time they talk.
Above all, Glenn knows his main goal is to continue pursuing his relationship with God. "Just trust in the Lord," he said. "He can take you to places you'll never imagine, and heal relationships, and heal your addiction. Anything could happen – just trust in Him. Just a simple thing, that's all I need. I know that God is looking over me."
To read the rest of this issue of Market Street Mission Messenger, click here.
Help other people like Glenn…
Glenn's story of hope and healing is inspiring. Our long-term recovery programs exist to help other men and women find healing. Will you provide this help to others?
Call (973) 538-0431 If You Or Someone You Know Wants Help.