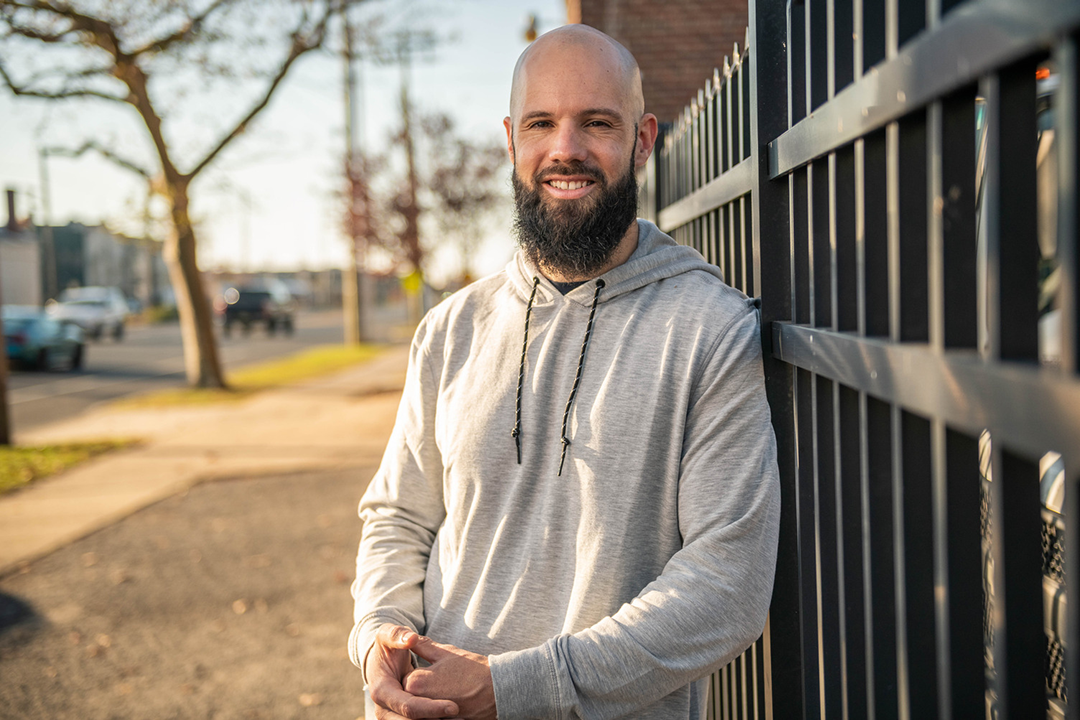 16 Nov

Will has joy and new life, thanks to you!
The best Christmas gift there is…
Will has joy and new life, thanks to you!
"I was homeless and broken… I didn't see any way out of it."
Growing up, Will struggled with anxiety and low self-esteem. But living in an alcoholic household where drinking was normalized early on, he discovered alcohol could help him manage his pain.
"I had my first drink when I was 12 or 13 years old, and then anytime I had access to alcohol after that I was drinking," he said.
What started as a coping mechanism soon became an addiction that consumed Will's life, leaving him with more pain and hopelessness than before. In 2020, at the height of his addiction, Will hit rock bottom: his mother passed away, his girlfriend left and took their son, and he lost everything in a house fire.
"I was homeless and broken," he said. "I was in and out of jail and couldn't stop using. I was dealing with despair and misery, and I didn't see any way out of it. I was trying to overdose – I thought that was the only way to break the chains of addiction, but it just wasn't happening."
Not knowing how to handle his pain, Will reached out to a friend who was a pastor. That friend directed him to a recovery program, but after three months, Will relapsed and was discharged.
At that point, he had to make a choice: go back to the streets, or try again to pursue his recovery. He decided to give the Mission's Life Change Program a try.
"When I first got to the Mission, I immediately felt love from the clients, interns and staff," he said. "I didn't have to worry about where I was going to sleep that night, what I was going to eat, the clothes on my back – it was all provided for me. I got the sense that there were no ulterior motives, and they just wanted to help. I felt at home."
Through time with his counselor, he began to address the deep-rooted issues he had grown up ignoring. And as he learned from the mentors around him, he began to grow in his relationship with the Lord.
"I came to realize that it's not just about stopping drugs," he said. "It's about taking care of that internal strife I've always dealt with. And really, it's a God-sized hole, as they say in AA, and only God can fill it."
One of the most impactful parts of our program for Will was the Christian Doctrine class, where he started seeing more of who God is and who we are in God. He and the other men in his class took time each day to repeat Scriptures back and forth to help each other better understand what they were learning.
"God says we are His children, adopted into His kingdom," he explained. "We're friends of Jesus Christ. We can be assured that He's going to finish the good work He started in us."
Looking back, Will can see a huge change in himself from the person he was before: "In addiction I was a liar, a thief, a manipulator, a selfish co-dependent with no compassion. Today I think God has given me all the opposite characteristics, as far as compassion, honesty, integrity – now I'm a man of standard, a man of God. He really did a complete 180 on my life."
Now, thanks to your prayers and support, Will has graduated from our program and serves in a leadership role as an intern at the Mission. He is eager to share the love and compassion he received from the Mission with all those who come through our doors. He loves serving others and having the opportunity to tell people what God has done for him, because he knows God wants to give them that same hope and healing, too.
"Since coming to the Mission, I'm filled with joy and peace of mind," he said. "I have a close relationship with God, and I have friends today too, sober Christian men that I can fellowship with. Seeing men grow in their sobriety and their spirituality is the greatest gift I could ever receive."
To read the rest of this issue of Market Street Mission Messenger, click here.
Help other people like Will…
Will's story of hope and healing is inspiring. Our long-term recovery programs exist to help other men and women find healing. Will you provide this help to others?
Call (973) 538-0431 If You Or Someone You Know Wants Help.