08 Apr

Addiction Recovery Program In New Jersey
Addiction Recovery Program In New Jersey
How YOU and the Market Street Mission Thrift Store are helping!
Addiction is pandemic that does not discriminate.  This problem is found in every community regardless of  race, social or economic background.   During the covid pandemic, alcohol and drug related deaths spiked tremendously according to the CDC and we are doing everything we can to assist in creating solutions with our addiction recovery program in New Jersey.
When you shop at the Market Street Mission Thrift Store, your purchases go directly to help support the Market Street Mission's addiction recovery program which gives hope to men who struggle with substance abuse and are seeking a better way of life.   Along with finding some amazing deals on clothing, furniture and home décor, you will also be making a contribution in fighting this pandemic that effects all of our communities.   We aim to provide quality items for the community while helping to fight this tremendous problem at the same time.  It is through your generous donations and purchases that help to make this all happen.   We are one community, working together.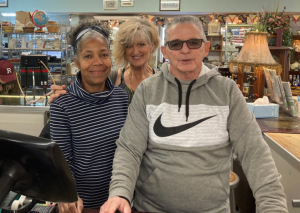 Our amazing staff works hand in hand with men in our addiction recovery program each day in various tasks throughout the store creating good work habits and developing work skills that will help them have a successful sober life in the future.   Men in our program will spend between 7 to 12 months working and learning about the joys of sobriety as we all fight this pandemic together.
Work therapy is an important aspect of our addiction recovery program.  This time allows men to regain their strength after years of substance abuse and helps them "thaw out" and normalize after some difficult time.   With your support we are able to spend this valuable time with these men and help them return to the lives that the Lord intended them to have.
Thank you all for your many years of support!
If you know anyone struggling with substance abuse problems and are in need of a long term addiction recovery program. 
Please call the Market Street Mission at 973-538-0431 for more information