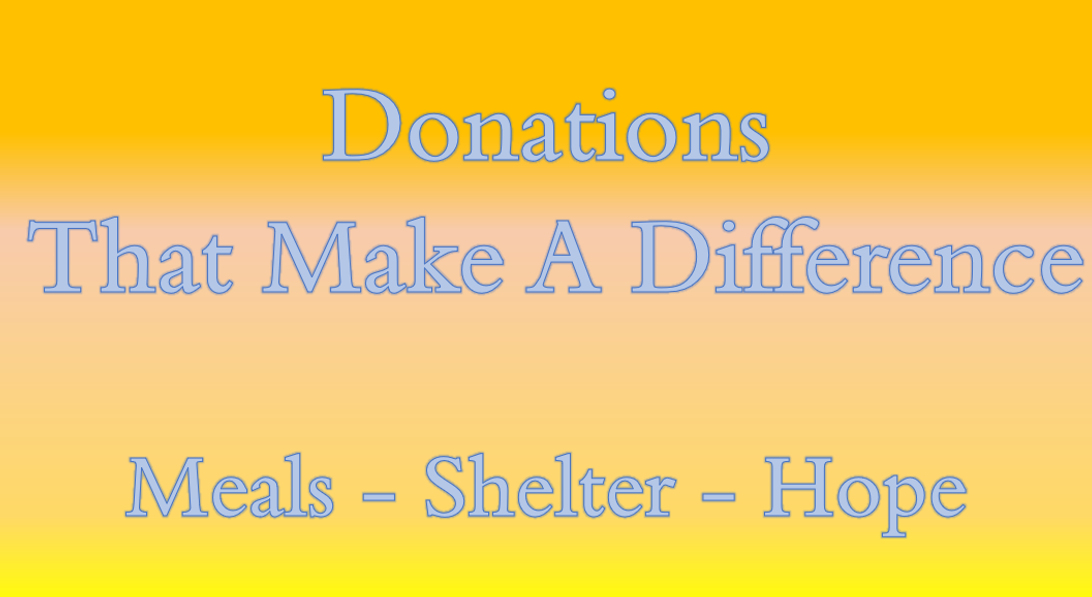 14 Aug

Donations That Are Making A Difference

Each day we are asked, "What type of donations are you looking for and how can I help."   The Market Street Mission Thrift Store has been blessed by the community with so many wonderful donations which go a long way in helping others in need.  From the daily phone calls, to the customers who visit our donation dock, we are always looking for ways to communicate what types of donations we are able to use and how the donors are making a difference.

How does your donation help?  We are able to provide clothing and furniture as well as basic necessities to those who are in desperate need of such items.  Our organization has various methods of providing these items, and we also have relationships with various organizations throughout the state who refer those in need to us.   We spend a lot of valuable time sorting through the donated items to make sure that they are of the quality we can distribute.   Once we identify the items that we would most likely be able to find a home for in a reasonable amount of time at our small store, these items are displayed in hopes to find a home for them.  All proceeds from these sales go directly to fund the various programs at the Market Street Mission to provide Meals, Shelter and Hope.   We are also happy to provide a receipt for your charitable donations!

Unfortunately, we do have a small store and have limited resources to sort through these items.   Based on our experience on the needs of the community, there are times that we have to kindly deny certain items.   Although we wish we could find homes for all the kind donations, there are times that we just don't have people in need of certain items and we spend a great deal of time and money getting rid of them.   Although we certainly appreciate the kind gestures of people donating, there are times where we kindly have to say no because of the amount it costs us for disposal and manpower.

If an item requires repair, refinishing or an extensive amount of wear and tear is present please consider disposing of it as we do not have the manpower to provide this level of servicing. 

What are the kinds of donations that we have been turning down?
Furniture examples:

Broken, stained, scratched,  ripped or missing pieces.
Large pieces such as China cabinets and Wall Units:  Although these tend to be very nice, many people are not looking for these large pieces these days.  They do take up a lot of room and become very costly for us to dispose of if we can't find a home for them.
Large glass pieces: These tend to be a safety concern and for that reason, if a piece does have a lot of glass, we often are not able to accommodate them.
Miscellaneous chairs.  We get a lot of offers for these, but rarely do we get requests for them.

House hold goods examples:

 Miscellaneous glassware, cups, plates, bowls etc:  We get a lot of these offers by the box full and typically it is more than we can handle or find homes for:  Unless it is a matching set of items or new, we most likely would not be able to accept them.
Left over items from garage sales:
Boxes of items that are not easily identifiable:
We do have a drop off bin for clothing only.   We do ask that you please do not leave items outside our store.  We do understand you are looking to help by donating, however, quite often these items get damaged and they are not items that we can make use of.  This become a lot of work for us and a very large cost.   If you have any questions about what we do and do not accept please call us at 973-458-0427 and we can assist you.
Our drop off hours are every day except Wednesday and Sunday from 9am to 3:30pm.
We thank you for your constant support and your understanding in the work that we do!