19 Apr

SAVE THE DATE: The National Day of Prayer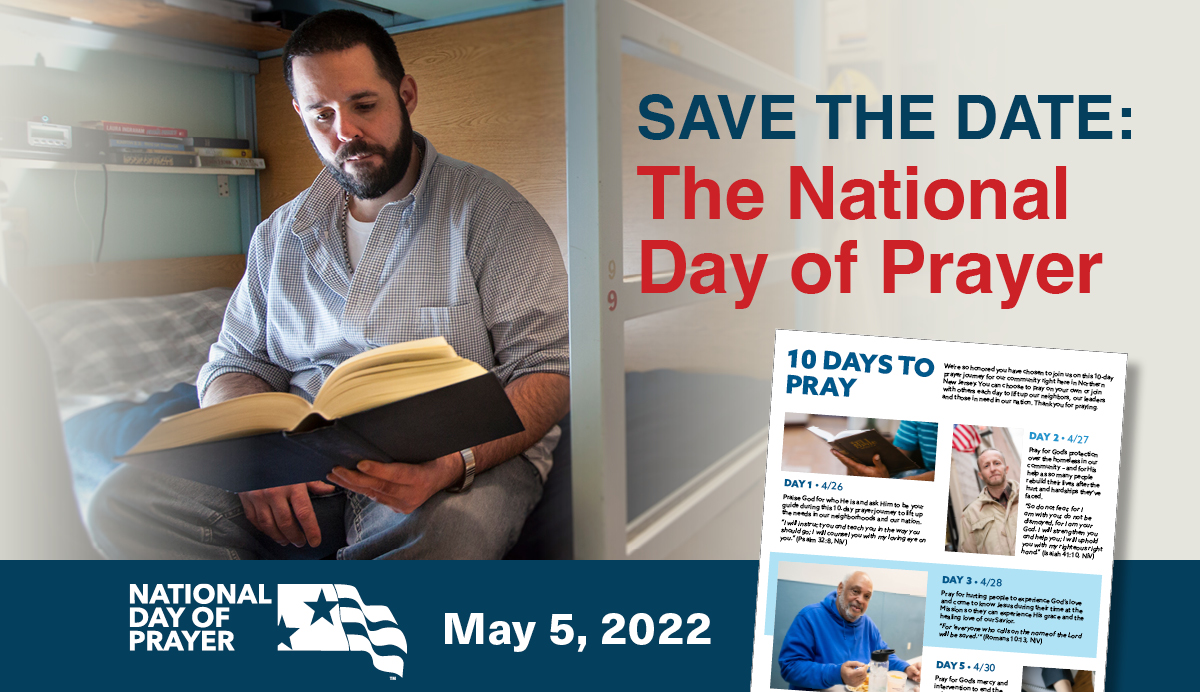 We hope you'll join us at our National Day of Prayer Event:

Thursday, May 5, at Noon on the Morristown Green
(In case of inclement weather, join us in the Mission chapel at 9 Market Street)

Join in prayer with others on the National Day of Prayer. Together, we'll pray for God's blessing and help for our nation, our city and our hurting neighbors here in Northern New Jersey.
DOWNLOAD YOUR 10-DAY PRAYER GUIDE NOW 
Prepare your heart for the National Day of Prayer. Fill out the form below to get your 10-day Prayer Guide now. Use it each day as you pray for the Mission, our city and those who are homeless locally and across the nation. Then get ready to pray with others in our community on May 5 on the Morristown Green.
In 1952, President Truman signed the National Day of Prayer into law as an annual event. This year, we celebrate 70 years of prayer for America. Be a part of this amazing legacy and start by praying today.
In addition to your prayers, please consider sharing a gift now to provide the meals, shelter and life-changing care our homeless, hungry neighbors need.
Join our Prayer Team.
 The prayers of caring friends like you support and empower our ministry. And joining our Prayer Team – along with other faithful friends – is the best way to know how to pray for us through monthly prayer updates via email.
God promises He hears us, anytime and anywhere.
 Join our team today>>