24 Apr

SAVE THE DATE: The National Day of Prayer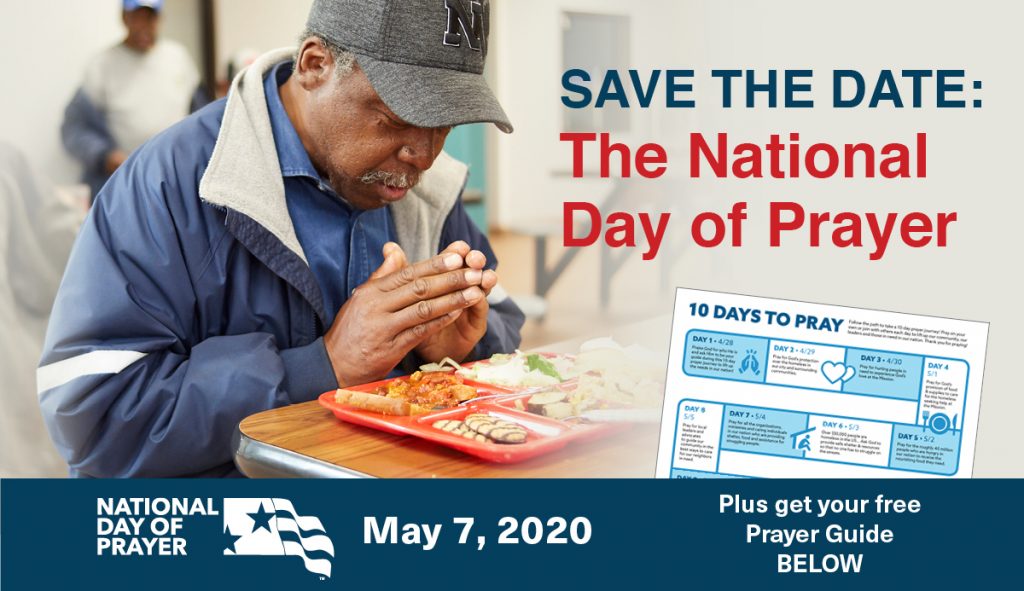 The COVID-19 crisis was a challenge none of us expected… but God has not forgotten us. He invites our prayers and is with us in this storm.
After such an unsettling, even frightening, start to the year, many of us are urgently praying. And God promises that as we pray, He will heal our land. (See 2 Chron. 7:14.) Our founding fathers recognized the power of praying for our nation, and even as early as 1775, called for a special day to pray. The National Day of Prayer was later signed into law as an annual event.
Be a part of this wonderful legacy and start by praying today.
Stand united with others as you pray for our nation, our city and those in need right here in Northern New Jersey. Join us in praying on the National Day of Prayer on May 7, 2020.
Pray for struggling individuals seeking help at the Market Street Mission…
Pray for God's protection and healing in the wake of COVID-19, especially for our vulnerable, homeless neighbors in Northern New Jersey.
Pray for God to provide food & critical supplies to care for local people in need in this time of crisis.
Pray for hurting guests to experience God's love and peace at the Mission during this difficult time.
Pray for Mission staff serving those in need…

G. David Scott, Executive Director
Debbie McKenna, Volunteer Coordinator
Susan Bosworth, Development Manager
Pray for our city…
Pray for God's mercy and healing hand to be upon our city as we face the challenges of COVID-19.
Pray for God to inspire a community outpouring of generosity for homeless & hungry neighbors.
Pray for our city leaders to guide our community in caring for those in need during this troubling time.
Pray for more affordable housing to become available in our city for struggling individuals & families.
Pray for our nation & needs across the country…
Pray for God to provide for those who are hungry & homeless in the US, and protect those with health challenges right now.
Pray for all the organizations, ministries and caring individuals serving those in need.
Pray for wisdom for our nation's leaders in the decisions they're making to address the COVID-19 crisis, as well as homelessness & hunger in our country.
In addition to your prayers, please consider sharing a special gift now to help provide the meals, shelter and life-changing care our homeless, hungry neighbors need, especially during this crisis.
---
DOWNLOAD YOUR 10-DAY PRAYER GUIDE NOW
Prepare your heart for the National Day of Prayer. Fill out the form below to get your 10-day Prayer Guide now. Use it each day as you pray for the Mission, our city and those who are homeless locally and across the nation.