06 Apr

Congratulations to Ryan and Crystal!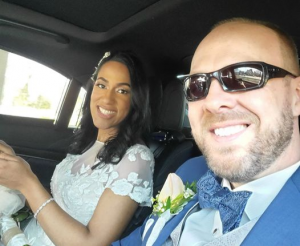 Ryan and Crystal officially became Husband and Wife on Monday, April 5th 2021!  Both Ryan and Crystal are employees at the Market Street Mission Thrift Store and have been a blessing as servants of the Lord with our organization.   The ceremony was a beautiful event and attended by many of the employees and friends of the Market Street Mission.
It's amazing to see the Lord work in both of their lives as they now join in Holy Union.  Both Ryan and Crystal have dedicated their lives in service to the Market Street Mission helping to provide hope and healing to many in need.  Ryan spends his days as our dock manager and ministering to the men in the addiction recovery program.  His story of faith is an inspiring example to the men working along side of him.  Ryan is a certified Chaplin and uses his example on how Christ changes lives of those in need.  Crystal is a wonderful part of our store who shares our story with the community that she interacts with on a regular basis and we as so blessed to have them part of our team.
The service and the reception was attended by numerous alumni of the Market Street Mission's Addition Recovery Program as well as staff members.  It was an amazing demonstration to everyone in attendance how the power of the Lord, Jesus Christ, can change lives….and that is exactly what we are about and the message that we share.
Ryan and Crystal, congratulations on your new lives together and my the Lord be with you on every step of your new journey together!