23 Feb

AN EVENING OF SONGS & STORIES WITH REBECCA ST. JAMES
AN EVENING OF SONGS & STORIES WITH REBECCA ST. JAMES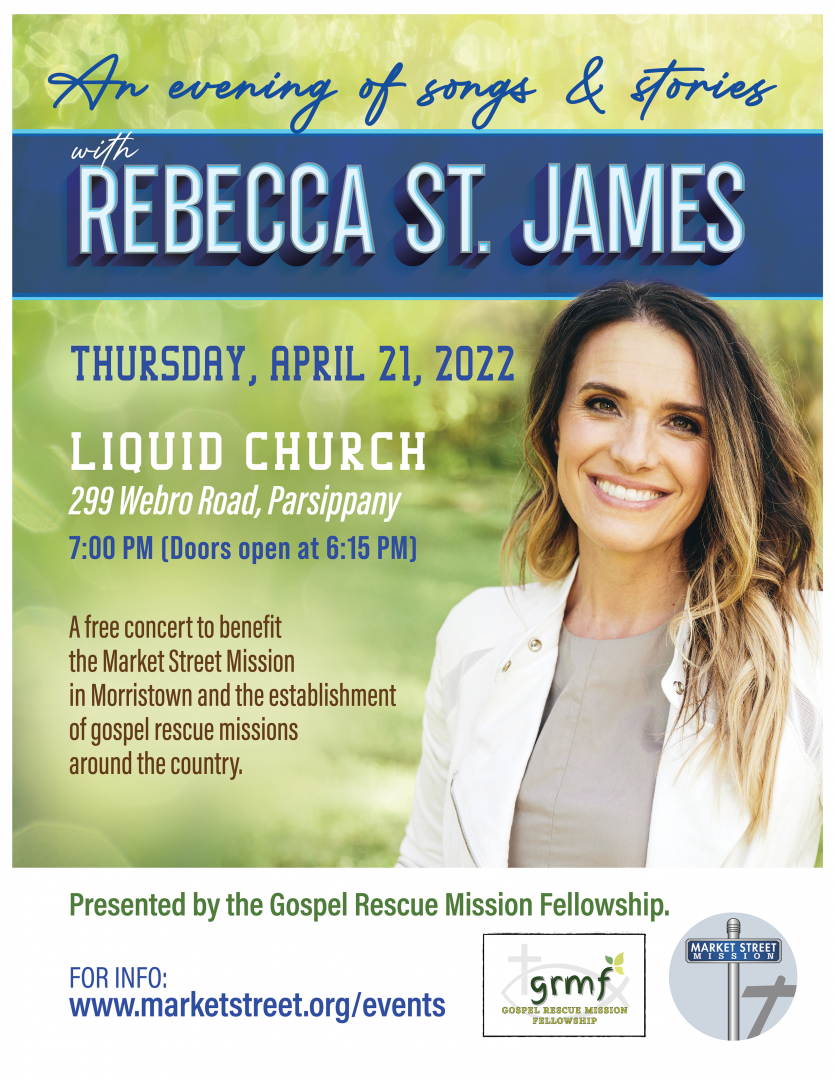 A free concert to benefit the Market Street Mission in Morristown and the establishment of Gospel Rescue Missions around the US
Thursday, April 21, 2022
7:00 PM (Doors open at 6:15 PM)
Liquid Church
299 Webro Road
Parsippany, NJ 07054
Presented by The Gospel Rescue Mission Fellowship
For 25 years, singer/songwriter, author, and actress Rebecca St. James has inspired Christian audiences around the world with such songs as God, Pray, Better Is One Day, and I Thank You. A Grammy and Dove Award winner for her music, Rebecca is also an accomplished author and actress, having released a dozen books and appeared in more than eight films. Join Rebecca for a night of stories and songs to benefit the Market Street Mission and the establishment of Gospel Rescue Missions around the country. Plan to spend an evening with Rebecca as she performs her most popular songs including God, I Thank You, Pray, Song of Love, Wait For Me, and Better Is One Day.
Free?
This concert is open to anyone. There will be a free-will offering to support the Market Street Mission in Morristown and the establishment of Gospel Rescue Missions in NJ and around the country.
Where do I park?
Plenty of free parking at Liquid Church and in the Lexus lot next door.
Where can I find more more information about Rebecca St. James?
Directions to Liquid Church?
Liquid Church in Parsippany is easy to get to from Routes 80 and 287. For more information about Liquid Church visit www.liquidchurch.com
Can I reserve a seat?
Seats are first come, first served. Doors open at 6:15 PM.
Will there be child care?
Unfortunately not for this event so that everyone can enjoy Rebecca's concert.
What are the health guidelines for this event?
For more information please email Deb McKenna, Events & Volunteer Manager at The Market Street Mission, at: dmckenna@marketstreet.org.